Different Types of Tea Advent Calendar 2023
This year, we are going to be offering 4 different kinds of tea advent calendars. These will be broken down by the type of tea they contain as well as the teaware that is included. Let's take a look at each of the four options.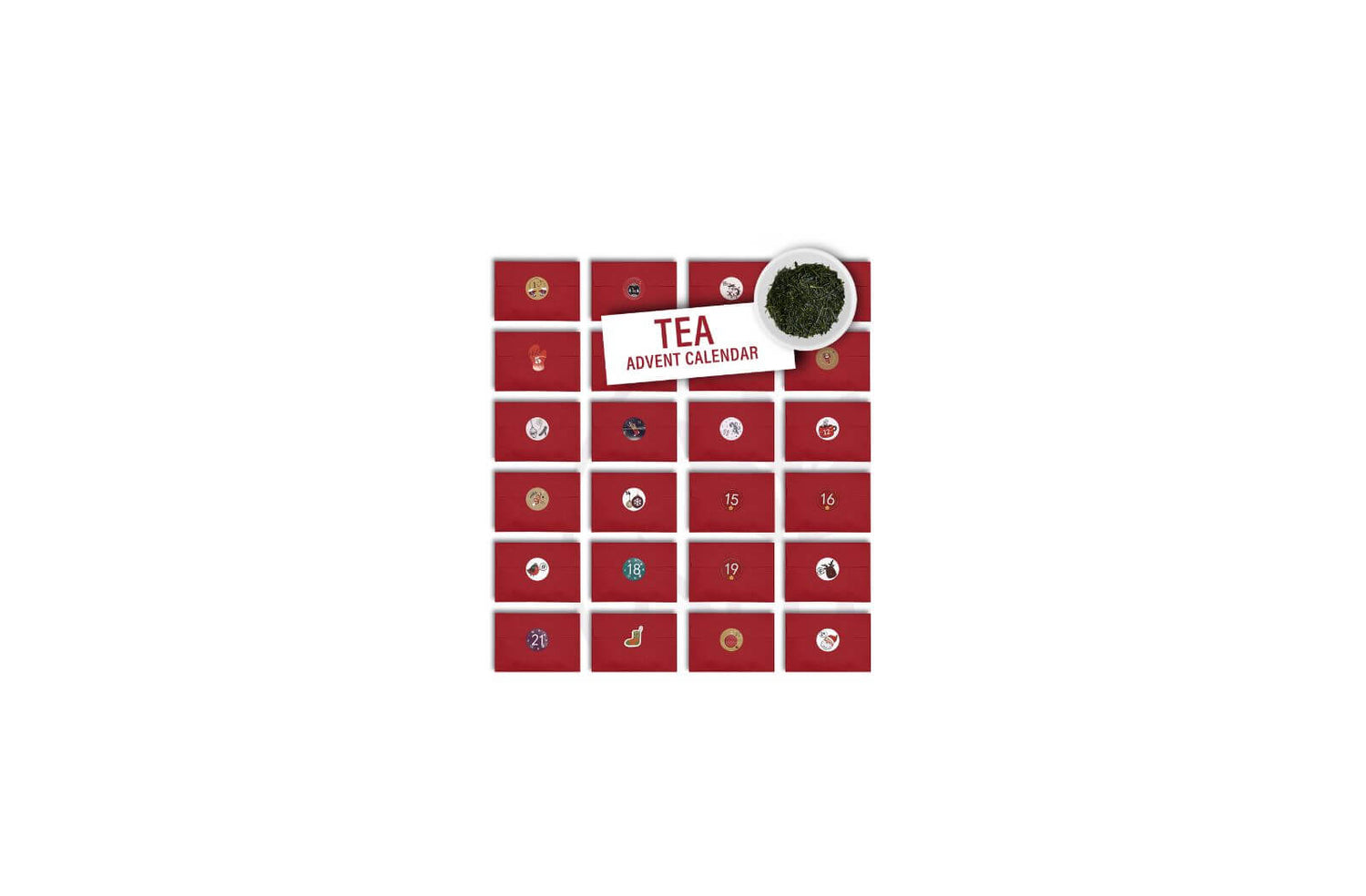 Loose leaf tea advent calendar 2023
This tea advent calendar includes 28 different kinds of teas, including mostly loose leaf teas, but there are a few matcha teas thrown in as well. If you are relatively new to Japanese green tea and you want to just get a taste of everything, this is the option for you. With this sampler, you'll get to try all the classic types of Japanese green tea like sencha, hojicha, genmaicha, bancha, kukicha, kamairicha, gyokuro, matcha and more! 
If you want to take a deep dive into each of these teas, you can find videos on our youtube channels where we visit the farms, taste the teas and show you the best ways to brew them.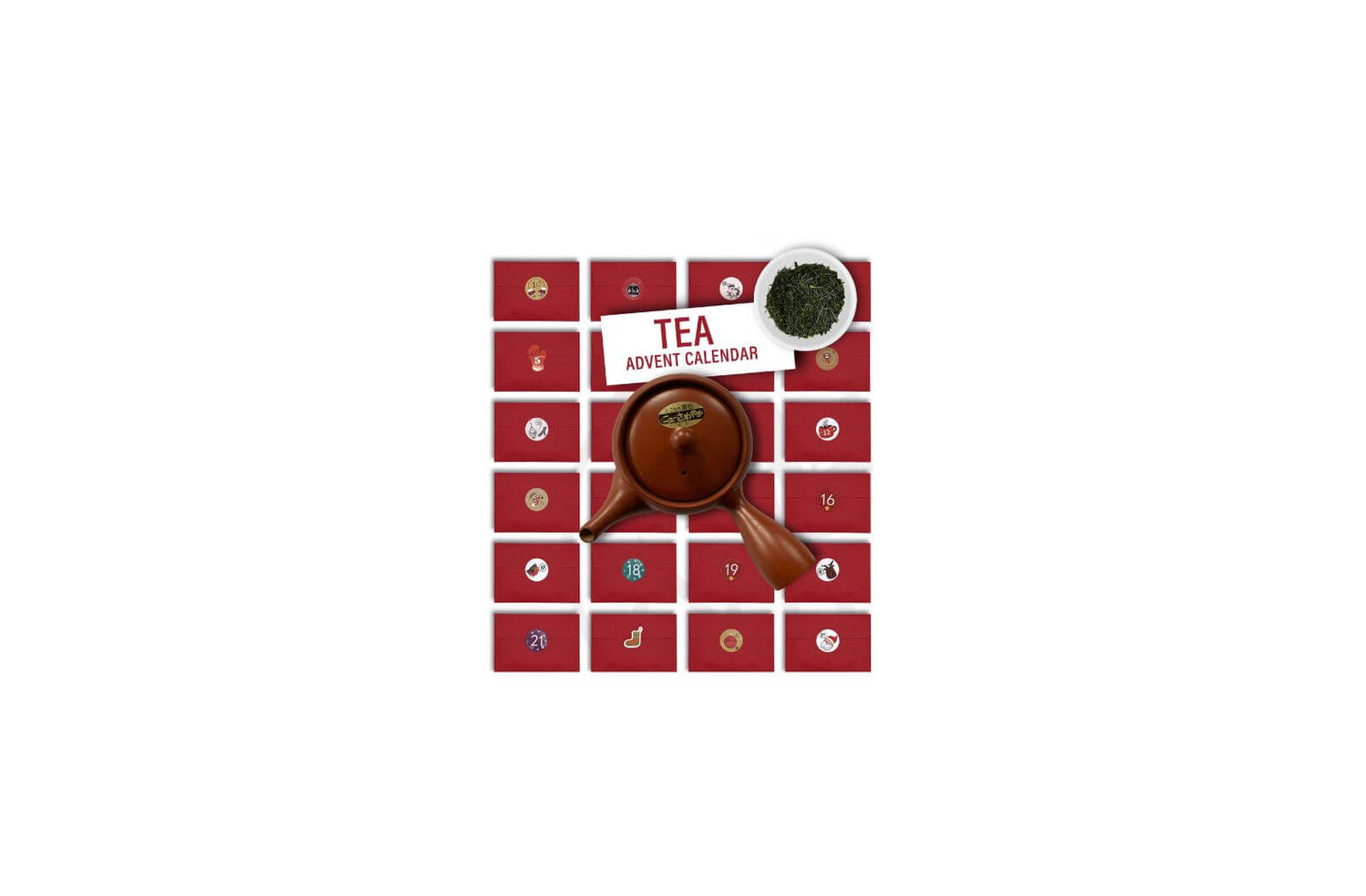 Green tea advent calendar with Kyusu
If you want to explore the world of loose leaf tea and matcha, but you also want the proper teaware to prepare them, this bundle is the perfect choice for you. This bundle includes the classic green tea advent calendar plus the kyusu teapot, the chasen tea whisk and the chashaku bamboo spoon. The kyusu teapot is the best tool for preparing loose leaf, Japanese green tea and the chasen is the best tool for making matcha. It allows you to create that beautiful, creamy foam on top of the matcha that can make it so much more soothing, particularly on a cold December morning.
Matcha advent calendar
The matcha tea advent calendar 2023 is a new addition to our lineup. This advent calendar includes matcha teas that come from different regions, different tea farms and different tea plant varieties. If you are looking to expand your palate for matcha tea, this is a good way to do it, as you will see how subtle differences in where they tea plant is grown can yield different results when it comes to taste. The most staggering difference will come down to the cultivar used, with different tea cultivars yielding entirely different flavors.
Matcha tea advent calendar 2023 with Whisk, Chawan and Chashaku
If you are a big fan of matcha tea and you want to get the best teaware to prepare it the proper way, this is the perfect bundle for you. In this bundle, you not only get the matcha tea advent calendar 2023, but you also get the chawan matcha bowl, chasen matcha whisk and chashaku matcha spoon. 
The chawan is a beautifully carved clay bowl that is used during the Japanese tea ceremony. The chasen is carved out of a single piece of bamboo, and it is designed to prepare the perfect bowl of matcha, with a nice thick foam on top. Finally, the chashaku is the bamboo spoon that can be a great tool when it comes to measuring out the matcha and scooping it into the matcha bowl. 
The Story Behind the Tea Advent Calendar 2023
As the weather starts getting colder, we find that warm cups of tea become even more soothing and comforting. We also liked the idea of tea lovers getting a small gift every morning leading up to the big one. After a few suggestions, we launched our first green tea advent calendar back in 2020.

We compiled a list of the best teas we had found around Japan, wrote a short poem for each one and slipped them into a few red envelopes for our customers. We found that the interest was way higher than we anticipated, and we quickly sold out of all we had.
Tea advent calendar 2021

The next year, we decided to reintroduce the advent calendar with some additional teas we had discovered. The demand this time around was even higher, and we were able to share red envelopes filled with holiday cheer with people all around the world. We wanted to offer a matcha advent calendar in 2021 as well, but due to a last-minute issue at one of the tea farms, we were unable to offer it. We felt bad that we weren't able to offer this advent calendar, but knew that the next year we would be able to deliver.

Tea advent calendar 2023

In the fourth edition of the tea advent calendar, we are not only able to offer our full spectrum of matcha teas and leaf teas, but we will also be delivering much earlier than before. These advent calendars will start shipping out before the end of march, giving you plenty of time before the holidays. They also make great gifts for all the November birthdays, and it can be fun to have a friend to enjoy the advent calendars with. The matcha advent calendar will contain all of our new matcha teas, plus some ones that are not currently available in our sampler.
Need help? We've Got Your Covered…
Delivery

We currently offer free delivery options for everyone around the world. For certain orders, we also provide free express shipping, which usually arrives in just a couple of days. If your order is time sensitive, make sure you have one of the faster delivery options selected at checkout.
Teas and Teaware

Have questions about any of our products? You can either ask our customer service team, or refer to the hundreds of videos we have on YouTube, Instagram, Facebook and TikTok for more information.
Order issues

While things usually are sent out quickly and efficiently from our E.U and U.S distribution centers, there are some delays due to customs, holiday traffic and weather. We can provide you with tracking information when you order so you'll know where your tea is at all times!
Payments

We currently accept payment by major credit card, paypal, apple pay and bank transfer. If you have any questions about your preferred payment method, please be sure to reach out to us and we can figure something out to accommodate you!
Returns & Refunds

While returns are very rare at Nio, they occasionally do occur. We want everyone to be satisfied with the tea they get, so we would prefer to offer a replacement tea rather than leave someone with a tea they don't like. Please be sure to reach out to us and we can solve whatever issues you might have with the tea you ordered.
Japanese Green Tea Education Center
View all
Learn everything you need to know about Japanese black tea, what is Japanese black tea, the history of Japanese black tea and what it tastes like

Learn everything you need to know about Japanese black tea, what is Japanese black tea, the history of Japanese black tea and what it tastes like