What is Genmaicha?
Genmaicha tea is made by combining green tea leaves with toasted rice. This is becoming a popular drink to serve at tea shops and restaurants all around the world, because of its likable taste characteristics.
Our Genmaicha is exclusively sourced from small Japanese tea farmers
After traveling around Japan for the past few years, we've met with dozens of farmers and sampled many different kinds of genmaicha tea. The best genmaicha we found is actually produced by a collective of farmers at Hagiricha. These farmers all work on small farms around Shizuoka and this organic genmaicha loose leaf tea is great testament to all their hard work. 
Our Genmaicha is 100% pesticide free
Organic genmaicha is what we strive for. After visiting both organic and non-organic tea fields, we have found that the pesticide free fields provide much more of a habitat for other plant species and animals as well. When you go for organic genmaicha loose leaf tea, you are helping to support a more sustainable tea industry.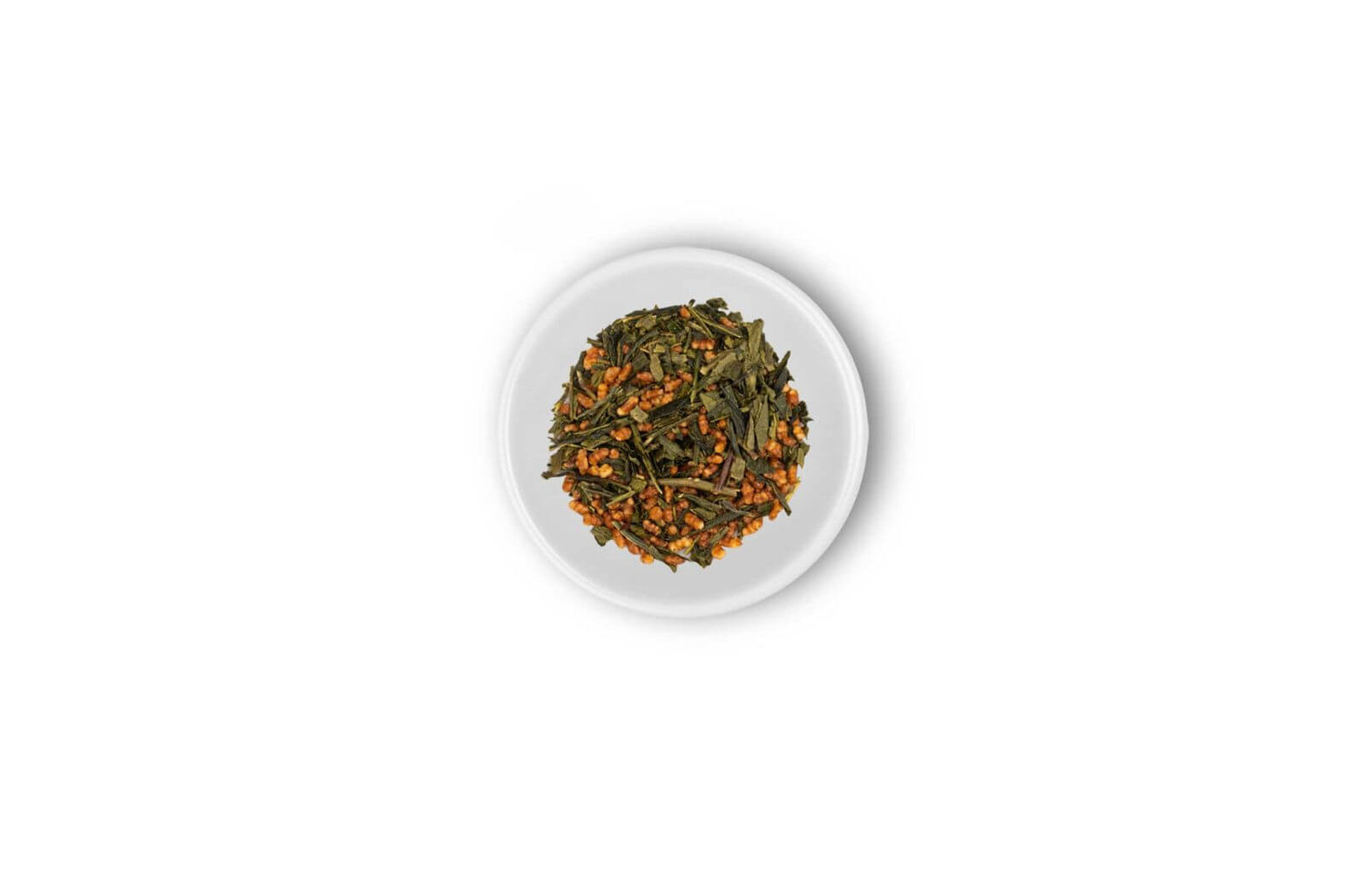 Genmaicha flavor profile
Genmaicha plays on more of these warm cereal notes, with a flavor like oatmeal or corn flakes. There is a light, starchy sweetness to the tea followed by some more grassy notes, depending on the type of tea leaves being used.
History of genmaicha
Genmaicha green tea began as a way to conserve tea supplies during times of economic hardship. By adding a cheaper ingredient to the tea leaves like toasted rice, it stretched the supply of tea. This new genmaicha green tea with roasted rice soon became popular all around Japan, even for people that could afford sencha. Now it is sometimes consumed at Japanese restaurants due to its low caffeine content and its pleasant cereal flavor.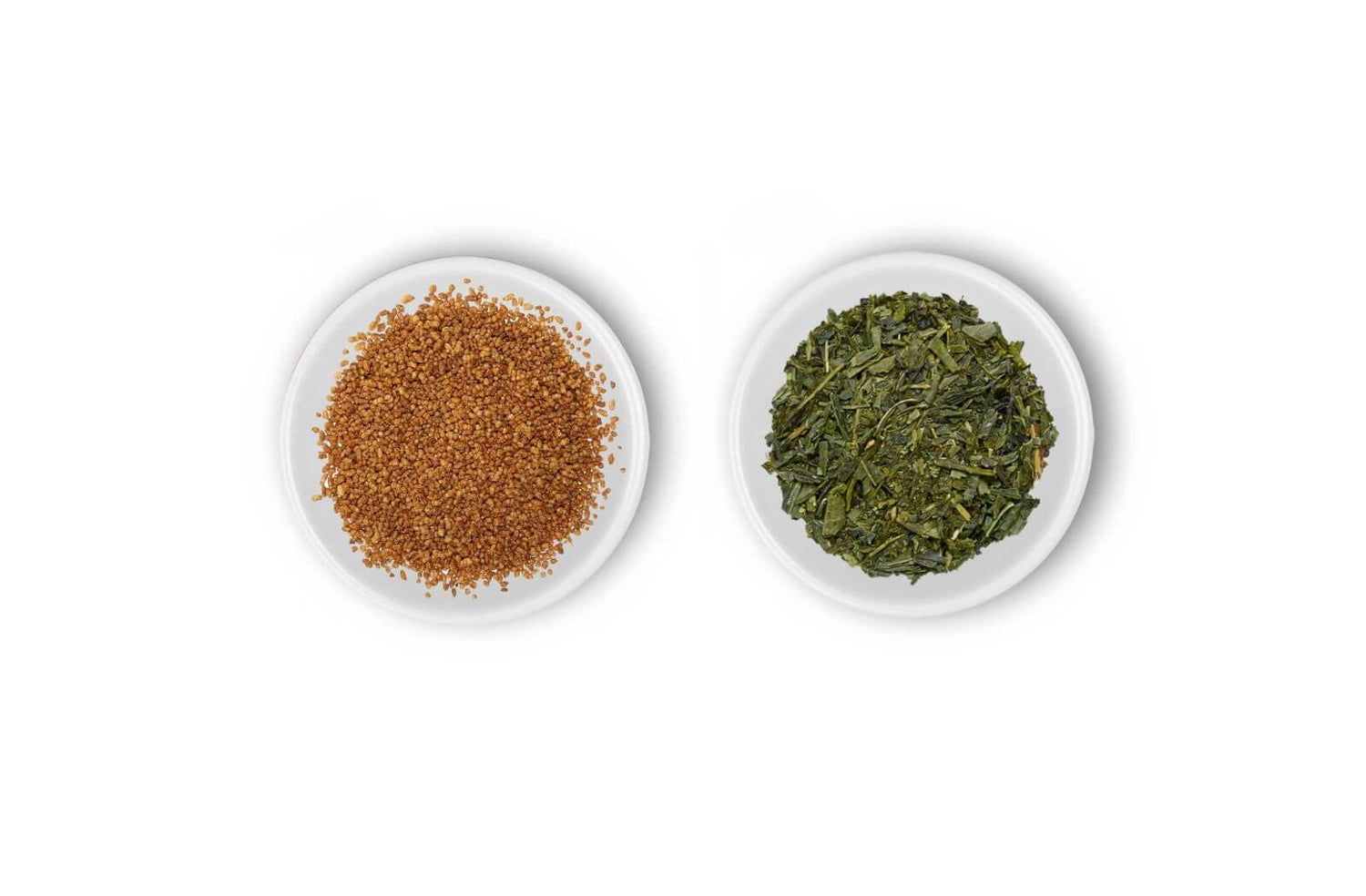 Genmaicha production
Genmaicha green tea is made out of two ingredients: roasted rice and loose leaf tea. Usually, this tea is either made with bancha tea (see picture) leaves or sencha tea leaves. The combining of the genmaicha green tea with roasted rice is done at the very end, after the tea leaves have been finished. This makes genmaicha tea a blended tea.
Genmaicha brewing instruction
If you want to brew the best genmaicha tea, you can follow the instructions on the product page of each tea. In general, you can use a higher temperature water, a brewing time of 1 minute and a leaf to water ratio of 5 grams to 150ml.
Need help? We've Got Your Covered…
Delivery

We offer free worldwide shipping options for all customers, wherever you might be in the world. On the larger orders, we will also provide free express shipping, which can arrive in just a few short days. If you need your genmaicha green tea urgently, please be sure to select the faster shipping option when you order, which will be provided either for free or for a low shipping fee.
Teas and Teaware

If you have any questions about our genmaicha tea, you can ask our customer service team. The best way to reach us is via email, but if you prefer social media, we also respond to direct messages and comments on Youtube, Tiktok, Instagram and Facebook.
Order issues

While issues with orders are usually rare, mistakes do happen and you may experience a slightly longer than expected wait time due to customs, holiday traffic or weather. We will automatically provide tracking information shortly after you order your tea so you can find out where your genmaicha is at all times.
Payments

We are currently accepting payments from all major credit cards, paypal and even bank transfer. If you have a question or concern as you are trying to pay for your genmaicha, please feel free to reach out to us and we can try and help resolve it!
Returns & Refunds

While genmaicha is usually a tea everyone likes, occasionally we find someone who won't like it. We want everyone to end up with a tea they like, so we would rather send you a replacement tea rather than have you stuck with a genmaicha you don't like.

There is no need to return the genmaicha green tea to us if you didn't like it, just keep it and share it with someone who would appreciate it! Feel free to send us an email or a message on social media and we can help to solve whatever issue you might have with your genmaicha! 
Learn the basics of genmaicha nutrition, how many genmaicha calories are there and what are the genmaicha nutrition facts when it comes to vitamins

Learn the basics of genmaicha nutrition, how many genmaicha calories are there and what are the genmaicha nutrition facts when it comes to vitamins