What is Hojicha?
Hojicha tea is a special type of roasted tea from Japan. During the roasting process, the tea leaves change from green to brown, the color changes from yellow to red and the flavor begins to take on these warmer notes of coffee, caramel and chocolate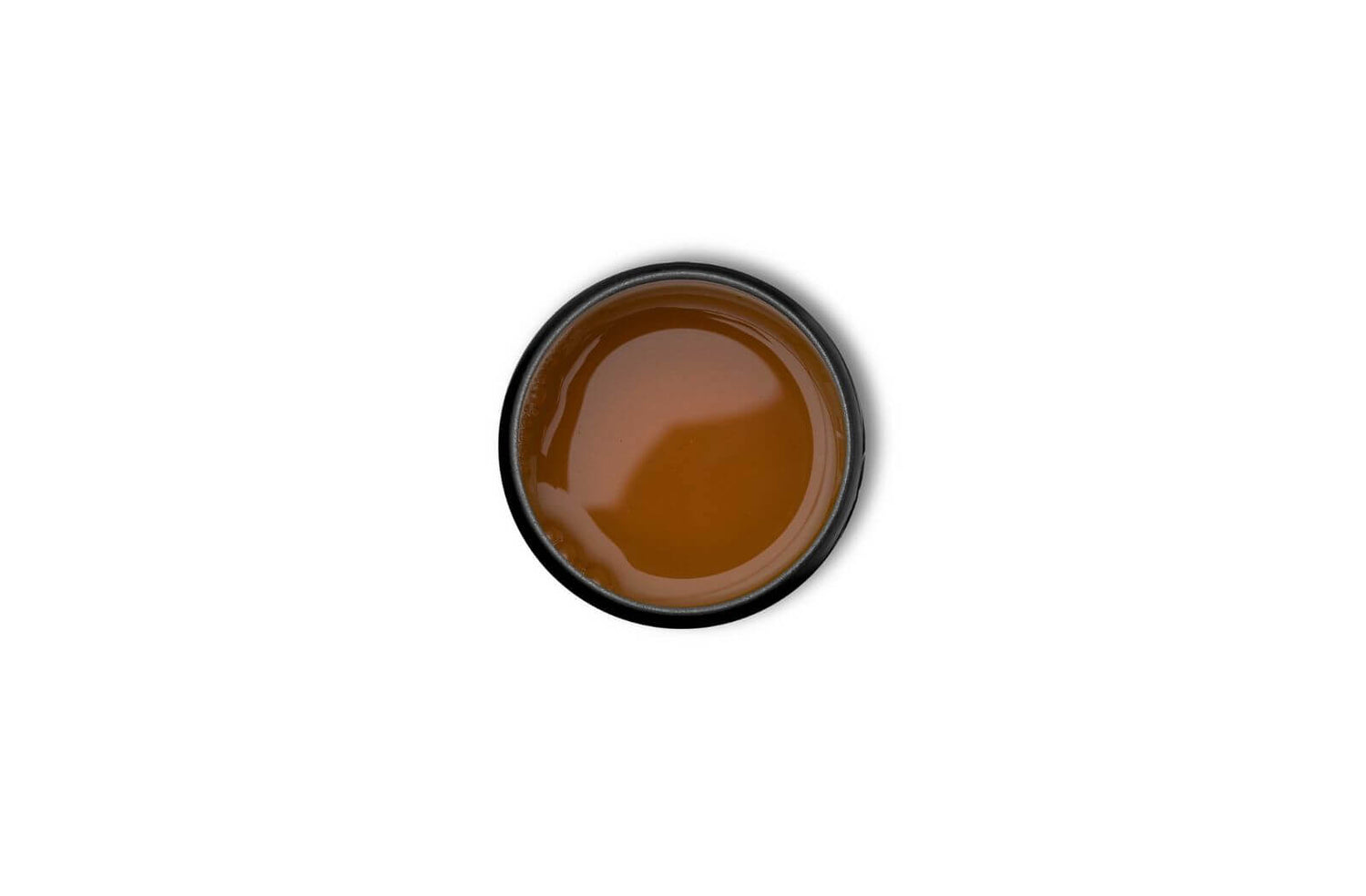 We select the finest Hojicha from small Japanese farmers
After traveling around Japan for the past few years, we have had the privilege of meeting with dozens of farmers and trying many different types of hojicha tea. Hojicha was a tea that always eluded us, and it took a long time to find one that met our standards. 
Ultimately, we found the Noike Hojicha which we absolutely fell in love with. Shortly after, we met with Mr. Issin who produced a fantastic kuki hojicha we could not get enough of. We are very fortunate to get the opportunity to work with many talented farmers, and we are proud to share their tea with all of you!
Our hojicha is grown without the use of pesticides or chemicals
We have had the chance to visit many different tea farms all across Japan, both organic and non-organic. We find that in the tea fields where pesticides and chemicals are not used, there is a much healthier ecosystem. In addition to producing incredible quality green tea, the tea field also provides a habitat for other types of plants and animals. In an effort to help preserve the natural beauty of the areas we source tea from, we make sure to only get our tea from farms that don't use pesticides or chemicals, and you'll notice that all of our hojicha is organically grown. When you choose hojicha tea that was grown without the use of pesticides or chemicals, you are helping steer the tea industry into a more sustainable direction. 
Types of Hojicha
There are a few basic types of hojicha tea you should know about, and we are going to cover them all briefly here
Regular Hojicha

When we say regular hojicha, we mean a hojicha that is made a combination or roasted tea leaves and roasted tea stems. It is common for hojicha to be made from older tea leaves, but it doesn't have to be.

Kuki Hojicha

This is a hojicha made almost entirely from the stems of the tea plant. Because the stems of the tea plant only contain ⅓ the caffeine as the leaves, and some of the caffeine is actually removed during the roasting process, the kuki hojicha ends up being one of the lowest caffeine teas out there.

Hoji genmaicha

This is a tea we discovered only recently. Just as the name would suggest, it is made by combining roasted tea leaves with "genmai" or toasted rice. This is another very low caffeine tea, and the farmers at Zenkouen told us that this tea is actually served in hospitals sometimes.

Kamairicha

Kamairicha isn't quite a hojicha tea, but it is roasted. Kamairicha is made in the Chinese pan-roasting style, making it a partially roasted tea. The flavor profile is somewhere in between a sencha and a hojicha, but it certainly has some warmer tasting notes to it.
Hojicha flavor profile
The flavor of hojicha green tea is quite unique. While unroasted you may get these fresher, citrusy notes of steamed vegetables and spring grass from other Japanese tea hojicha goes into a different direction entirely. When you drink hojicha tea, you will begin to notice less of this vegetal flavor, and more of these caramel, wood and chocolaty flavors.
History of Hojicha
Hojicha green tea is a rather new invention, dating back to the early 20th century. A tea merchant in Kyoto found that by taking the older leaves and stems of the tea plant (which were not commonly sold at the time) and roasting them, he could create a delicious green tea that was liked by people all around the city. Other producers soon began to take notice of this and began experimenting with different roasting methods, and ratios of leaves and stems. Now, hojicha is popular all around Japan, particularly during the colder months, where you can see hojicha tea being roasted at street markets in Kyoto.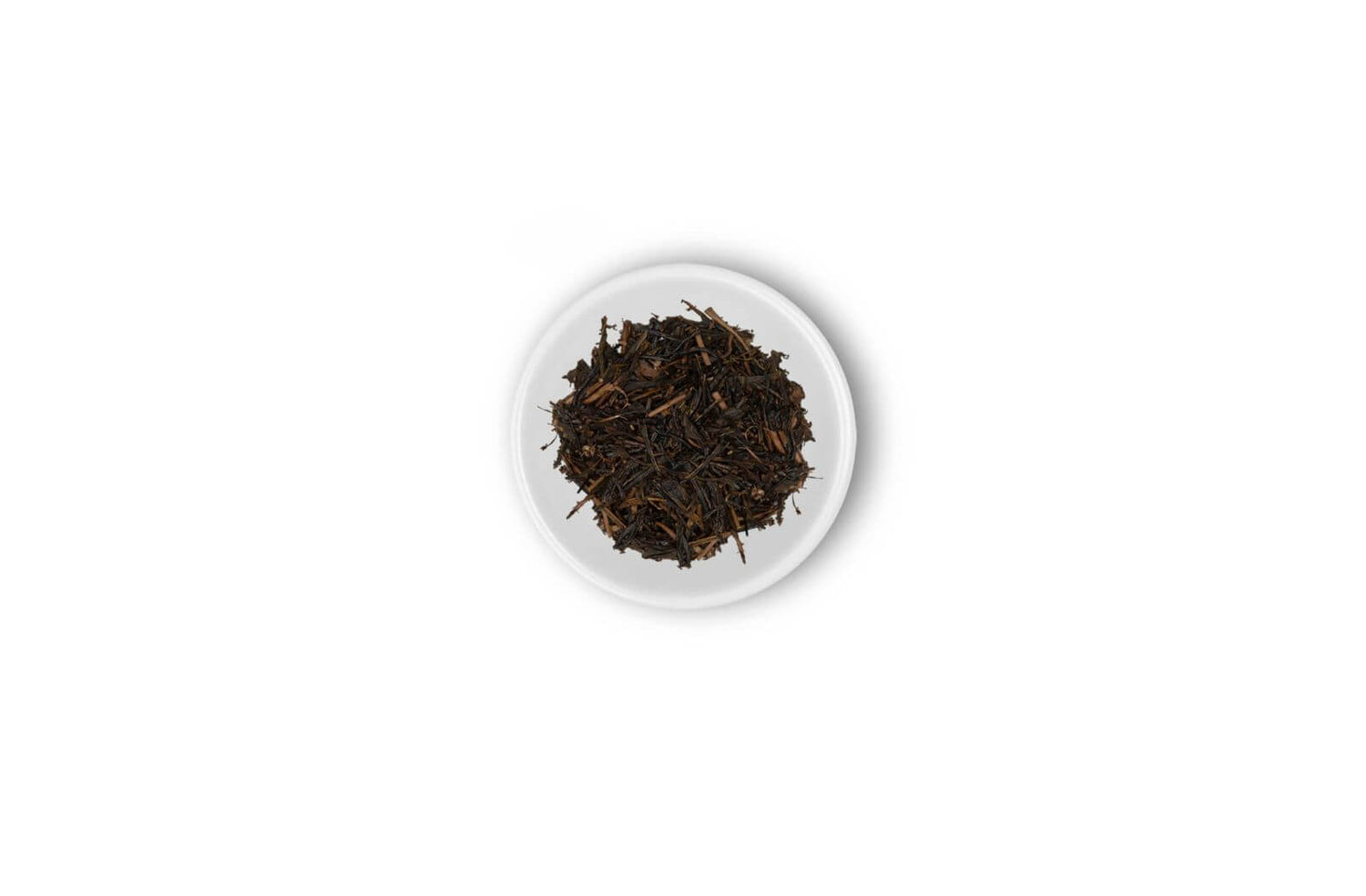 Hojicha Tea production
There are two different methods of preparing hojicha green tea. The first method involves roasting the tea leaves in a large hot pan. If the farmer were making a partially roasted tea like kamairicha, he would use this pan firing method but roast the leaves at a lower heat for a shorter time. To get a dark roast on the hojicha tea, you need to roast the leaves at a high heat for a long time.
The other method is to roast the tea leaves in a rolling machine. This method is used to produce hojicha tea on a larger scale. The leaves are turned very quickly so they heat evenly. If large quantities of hojicha tea are being produced, the farmer must separate the leaves by size. The small leaves roast faster than the larger leaves, so they undergo entirely different processes.
Hojicha brewing instruction
During the roasting process, some of the catechins are removed from the leaf. These are the bitter components that are extracted at a higher heat and the main reason why we recommend brewing Japanese green teas at lower temperatures. This is not as much of a concern when it comes to hojicha and you can go much higher with the temperature if you'd like. To brew the best cup of hojicha green tea, you can follow this guide here:
Step 1

Add 5 grams of hojicha tea to your kyusu teapot

Step 2

Pour in 150ml of 175 degree water

Step 3

Let the leaves sit in the teapot undisturbed for 1 minute

Step 4

Pour out the hojicha green tea and allow the built in strainer to automatically filter out the leaves
Benefits of Hojicha Green Tea
One of the main benefits of hojicha tea is that it is a low caffeine tea, but there is even more to it than that! Hojicha works surprisingly well as a cold brew tea, with the cold water bringing out more of the caramel notes from the leaves. The tea is also great for beginners, with most people enjoying it the first time they have it.
Need help? We've Got Your Covered…
Delivery

We offer free worldwide shipping options to all of our customers all across the world. On the larger orders, we also provide free express shipping, which can arrive in just a few days. If you need your roasted tea urgently, please be sure to select the faster shipping option at checkout, which will be provided either for free or for a reduced fee.
Teas and Teaware

If you have any questions about our japanese roasted tea, you can ask our customer service team. The best way to reach us is by email, but you can also contact us on social media. We respond to direct messages and comments on Youtube, Tiktok, Instagram and Facebook.
Order issues

While issues with orders are exceedingly rare, mistakes can happen and you may experience a slightly longer wait time due to customs, holiday traffic or weather. We will automatically provide tracking information shortly after you place your order so you can find out where your roasted tea is at all times.
Payments

We are currently accepting payments from all major credit cards, paypal and bank transfer. If you have a question or concern as you are trying to pay for your roasted tea, please feel free to reach out to us and we can try and help resolve it!
Returns & Refunds

While it is rare for someone to tell us they don't like the hojicha they received, occasionally it may happen. We want everyone to end up with a tea they like, so we would prefer to send you a replacement tea rather than have you stuck with a hojicha you don't like.

There is no need to return the hojicha to us if you didn't like it, just keep it and share it with someone who would appreciate it! Feel free to contact us via email or reach out on social media and we can help to solve whatever issue you might have with the tea you ordered! 
Learn all about Kamairicha with this complete guide! We'll explore what kamairicha is, how its made, the history of kamairicha and how to brew kamairicha.

Learn all about Kamairicha with this complete guide! We'll explore what kamairicha is, how its made, the history of kamairicha and how to brew kamairicha.