Regular price

Sale price

£81.00

Unit price

per
What is a Shiboridashi?
The tokoname shiboridashi can't be beat when it comes to brewing super flavorful cups of Gyokuro and sencha tea. The first thing you will notice when you look at this teapot is it's much flatter shape, and it's minimalist design. The tokoname shiboridashi is hand sculpted out of clay, and instead of a clay filter carved into the base, it has a few small notches towards the spout.
Filter of the shiboridashi
Another unique feature of the tokoname shiboridashi is the filter. If we compare the shiboridashi vs kyusu, you will know that there are two different types of filters, the built in clay filter, which is designed for larger leaf teas and the metal filter, which is designed to filter out smaller leaf particles, like those found in fukamushi sencha. The tokoname shiboridashi has a different type of filter entirely. Instead of a mesh, it just has 3 small notches carved into the clay. This filters out the larger leaves, but still allows the tea to pour quickly and evenly. 
Teas like gyokuro and kabusecha will have much larger leaves, and since these are the teas people tend to prepare in their shiboridashi, the tokoname shiboridashi doesn't need much in the way of a filter. This small carved filter helps to contribute to the minimalist design, but also helps move the water through more quickly.
Benefits of the shiboridashi
There are a few distinct design characteristics of the tokoname shiboridashi that set it apart from other clay teapots. The first is the flat design. When it comes to brewing tea, you want to provide the tea leaves with a wide base so that they can move vertically as they expand. If you do not provide the tea leaves enough space, they will become cramped, unable to unfurl and fully release their flavor into the water. The tokoname shibooridashi takes this principle to the extreme with its flat, low profile design.
The total volume or carrying capacity of the tokoname shiboridashi is quite small. This is a deliberate choice, as the purpose of the shiboridashi is to create a small volume of very concentrated green tea. These are the types of teas you might drink on a special occasion, like gyokuro and premium sencha. 
One way to prepare gyokuro is with 5 grams of tea leaves and only 50 millileters of water. This concentrates the flavor into a smaller space, so instead of getting a large cup of more watered down tea, you get a small quantity of super concentrated tea. When you are drinking gyokuro, you are meant to enjoy not only the taste of the tea, but also the texture as it glides over the top of your tongue, drop by drop. The texture should be almost oily, coating your palate with its sweet and savory flavor. The tokoname shiboridashi is the perfect tool for creating this effect.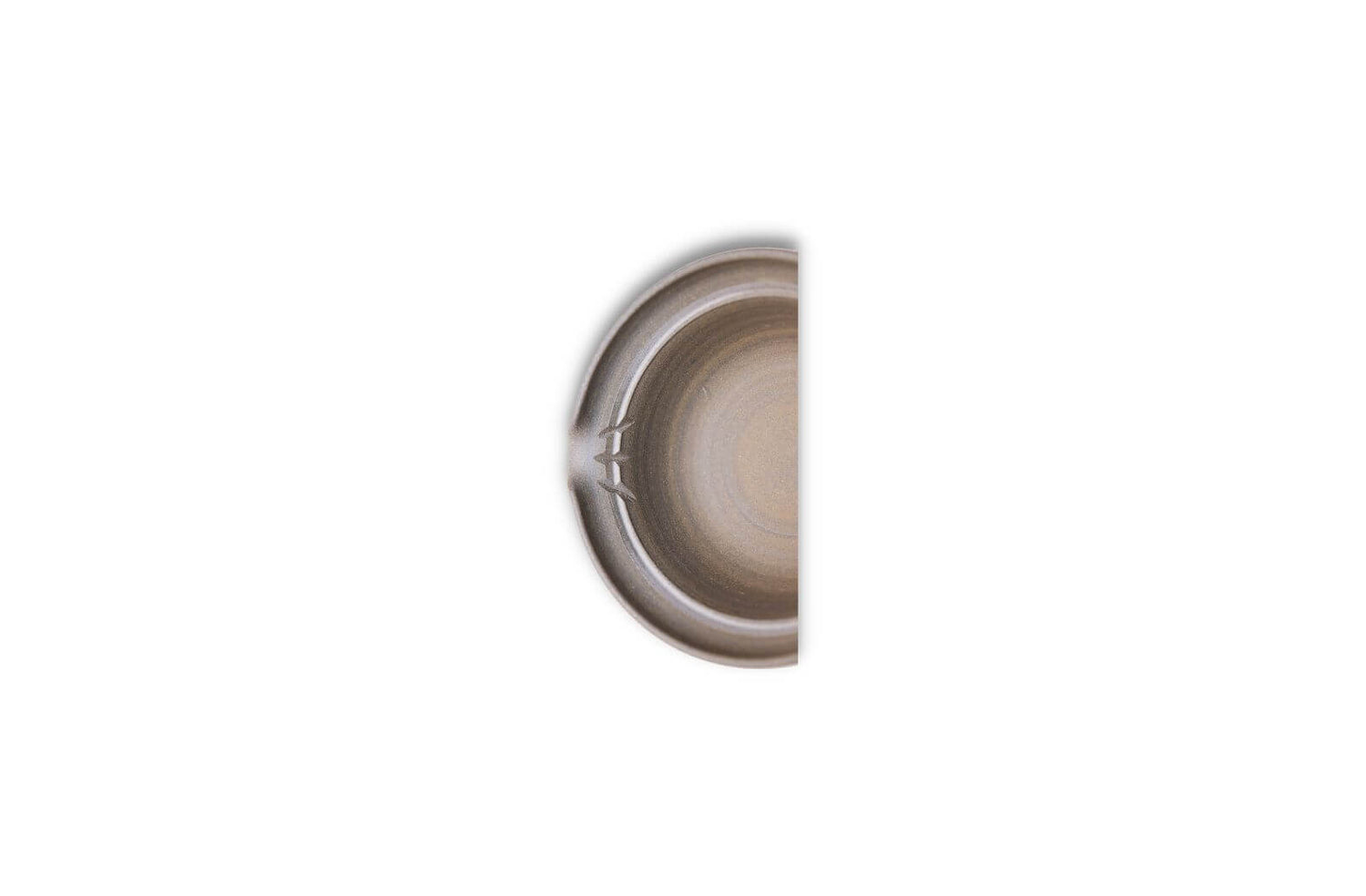 Lid of the shiboridashi
Just as the body of the tokoname shiboridashi is extremely wide and flat, so too is the lid of the shiboridashi. This allows it to lock perfectly into place with the base, and form a tight seal as you pour.
Because the teapot is comprised of just a lid and a base, naturally there are some similarities between the tokoname shiboridashi vs gaiwan. One of the key differences is that with the gaiwan, you need to position the lid at a slight tilt in order to create a gap, allowing the water to flow through but the leaves to stay behind. With the tokoname shiboridashi, the gap is already built in towards the spout, allowing it to pour evenly.
Benefits of using less water to prepare tea
If you are a big fan of matcha tea and you want to get the best teaware to prepare it the proper way, this is the perfect bundle for you. In this bundle, you not only get the matcha tea advent calendar 2022, but you also get the chawan matcha bowl, chasen matcha whisk and chashaku matcha spoon. 
The chawan is a beautifully carved clay bowl that is used during the Japanese tea ceremony. The chasen is carved out of a single piece of bamboo, and it is designed to prepare the perfect bowl of matcha, with a nice thick foam on top. Finally, the chashaku is the bamboo spoon that can be a great tool when it comes to measuring out the matcha and scooping it into the matcha bowl. 
Gyokuro included with the shiboridashi tea set
In addition to getting the shiboridashi teapot and the gyokuro cups, you will also get a full pack of gyokuro tea with your shiboridashi tea set. This gyokuro is the cha meijin from Mr. Sakamoto, a talented tea farmer from southern Japan. This tea is made entirely from the saemidori cultivar, which is known for having a light and sweet flavor. 
This tea is known as the masters tea, because it is meant for true tea connoisseurs. The tea has a warmer sweetness to it, with notes of caramel and brown sugar. The first cup of tea you prepare with your shiboridashi tea set should be nothing short of spectacular, and there isn't a more deserving tea than the Cha Meijin. Gyokuro was known as "the emperor's tea" because it used to be the tea of choice for the emperor of Japan. I'm sure even the emperor would approve of this special Saemidori Gyokuro.
Need help? We've Got Your Covered…
Delivery

We currently offer free delivery options for everyone around the world. For certain orders, we also provide free express shipping, which usually arrives in just a couple of days. If your order is time sensitive, make sure you have one of the faster delivery options selected at checkout.
Teas and Teaware

Have questions about any of our products? You can either ask our customer service team, or refer to the hundreds of videos we have on YouTube, Instagram, Facebook and TikTok for more information.
Order issues

While things usually are sent out quickly and efficiently from our E.U and U.S distribution centers, there are some delays due to customs, holiday traffic and weather. We can provide you with tracking information when you order so you'll know where your tea is at all times!
Payments

We currently accept payment by major credit card, paypal, apple pay and bank transfer. If you have any questions about your preferred payment method, please be sure to reach out to us and we can figure something out to accommodate you!
Returns & Refunds

While returns are very rare at Nio, they occasionally do occur. We want everyone to be satisfied with the tea they get, so we would prefer to offer a replacement tea rather than leave someone with a tea they don't like. Please be sure to reach out to us and we can solve whatever issues you might have with the tea you ordered.
Japanese Teaware Education Center
View all
With so many different matcha tools, it's difficult to know where to start. In this article, we're going to show you the matcha accessories you will definitely want, and which...

With so many different matcha tools, it's difficult to know where to start. In this article, we're going to show you the matcha accessories you will definitely want, and which...