Immerse yourself in the Japanese Tea Ceremony with our Matcha Sets
The Japanese tea ceremony is a ritualistic preparation of matcha according to a strict set of rules and principles. This tea preparation involves a japanese tea ceremony set, otherwise known as a matcha kit. The utensils contained within these matcha sets, not only make it easier to prepare matcha, but they also demonstrate certain values and principles of the tea ceremony.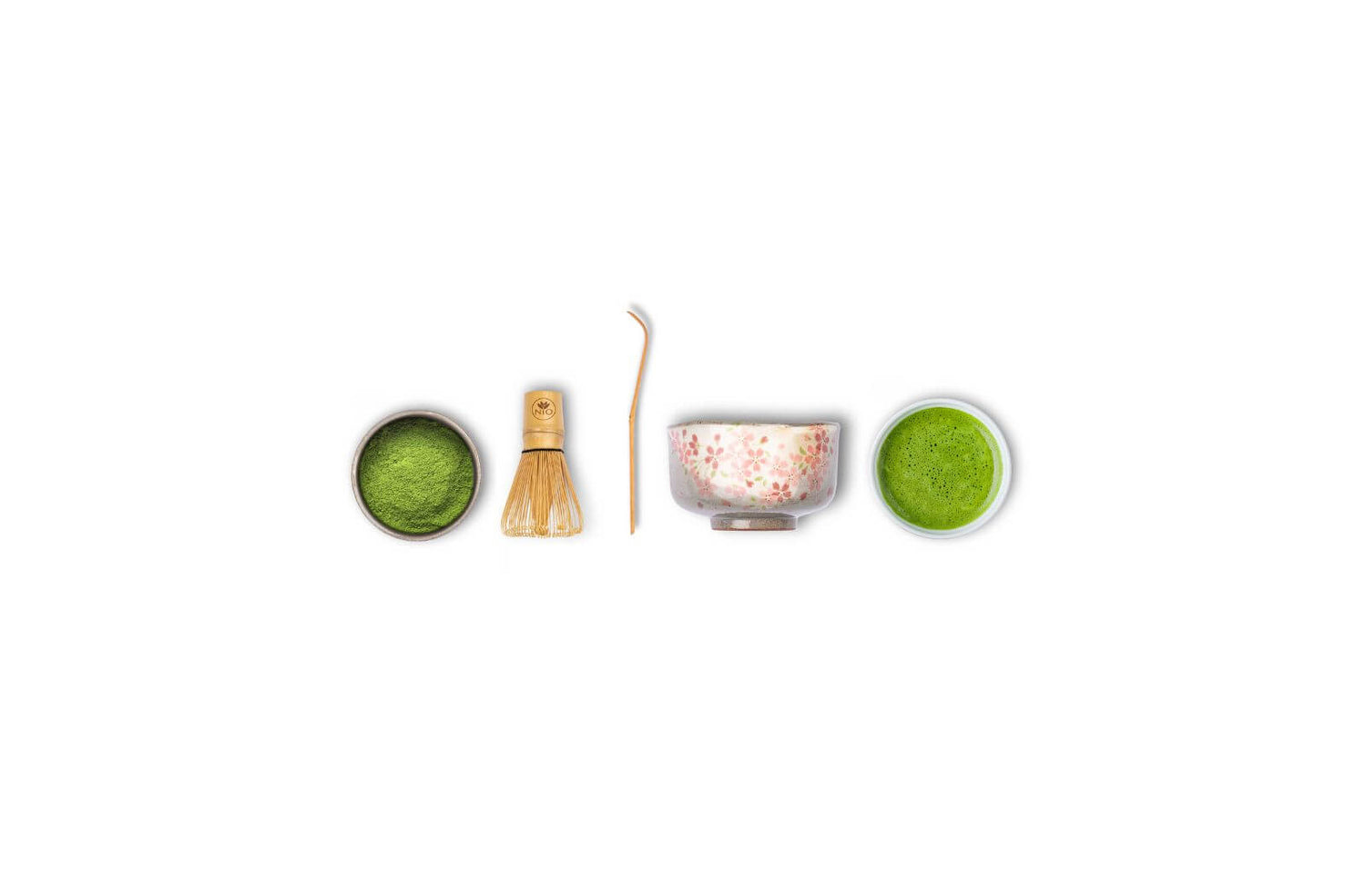 Our matcha tea sets are from Japan and produced by reputable farmers and artisans
The matcha tea set from japan brings a little extra Japanese tea culture and class to your home. These utensils are well built, function great and they really make a difference when it comes to the overall aesthetic of your matcha ceremony. Treat yourself with the best matcha tea kits available on the market
Our Matcha Kits are 100% pesticide free
As we mentioned before, it is particularly important to go pesticide free when you are selecting matcha powderfor Japanese Tea Ceremony Set. Particularly when it comes to ceremonial matcha, because you are consuming the entire leaf, and everything contained within it. If you are conscious about consuming chemicals, you should avoid the conventionally grown teas, particularly when it comes to powdered tea. In addition to the health aspect, we have also tried to address some environmental concerns of the tea industry by sourcing only pesticide free.
What utensils make up our matcha sets
#1 organically grown ceremonial matcha

This is the most important part of the matcha sets is of course the matcha itself. All of our matcha comes from small farmers in Japan who grow tea without the use of pesticides or chemicals.

#2 matcha whisk

No matcha kit would be complete without the whisk. This bamboo whisk is the perfect tool for whisking up beautiful bowls of matcha tea. It's lightweight, quiet and it makes it easier to create a foam when compared to the metal whisk.

#3 matcha bowl

The best matcha tea kits contain the matcha bowl or chawan. This is the clay bowl used in the Japanese tea ceremony, and it is the perfect container to whisk your matcha in.

#4 free chashaku

Included for free in a lot of our matcha sets is the bamboo spoon or chashaku. This makes it easier to scoop matcha powder out of a tin, and it also allows you to measure out the right amount of powder (2 heaping scoops for one bowl of matcha tea)
Watch how to use our japanese tea ceremony with this video tutorial
Step 1 - Select your Matcha Kit

Select the Matcha tea set that matches your personalitea

Step 2 - Sift the Ceremonial Matcha

Sift the matcha powder into the bowl

Step 3 - Add the water

Add 100ml of warm water into the bowl

Step 4 - Stir like a tea master

Stir like a tea master, using rapid wrist movements in a zigzag formation

Step 5 - Whisk to get the perfect foam

Whisk the tea until you create a beautiful foam on top

Step 6 - Enjoy your matcha

Serve up yourceremonial matcha teaand enjoy!
Need help? We've Got Your Covered…
Delivery

We currently offer free delivery options for everyone around the world. For certain orders, we also provide free express shipping, which usually arrives in just a couple of days. If your order is time sensitive, make sure you have one of the faster delivery options selected at checkout.
Teas and Teaware

Have questions about any of our products? You can either ask our customer service team, or refer to the hundreds of videos we have on YouTube, Instagram, Facebook and TikTok for more information.
Order issues

While things usually are sent out quickly and efficiently from our E.U and U.S distribution centers, there are some delays due to customs, holiday traffic and weather. We can provide you with tracking information when you order so you'll know where your tea is at all times!
Payments

We currently accept payment by major credit card, paypal, apple pay and bank transfer. If you have any questions about your preferred payment method, please be sure to reach out to us and we can figure something out to accommodate you!
Returns & Refunds

While returns are very rare at Nio, they occasionally do occur. We want everyone to be satisfied with the tea they get, so we would prefer to offer a replacement tea rather than leave someone with a tea they don't like. Please be sure to reach out to us and we can solve whatever issues you might have with the tea you ordered.
Learn how to build a matcha meditation practice and get your mind into a more relaxed and focused state. We'll even walk you through a matcha meditation

Learn how to build a matcha meditation practice and get your mind into a more relaxed and focused state. We'll even walk you through a matcha meditation