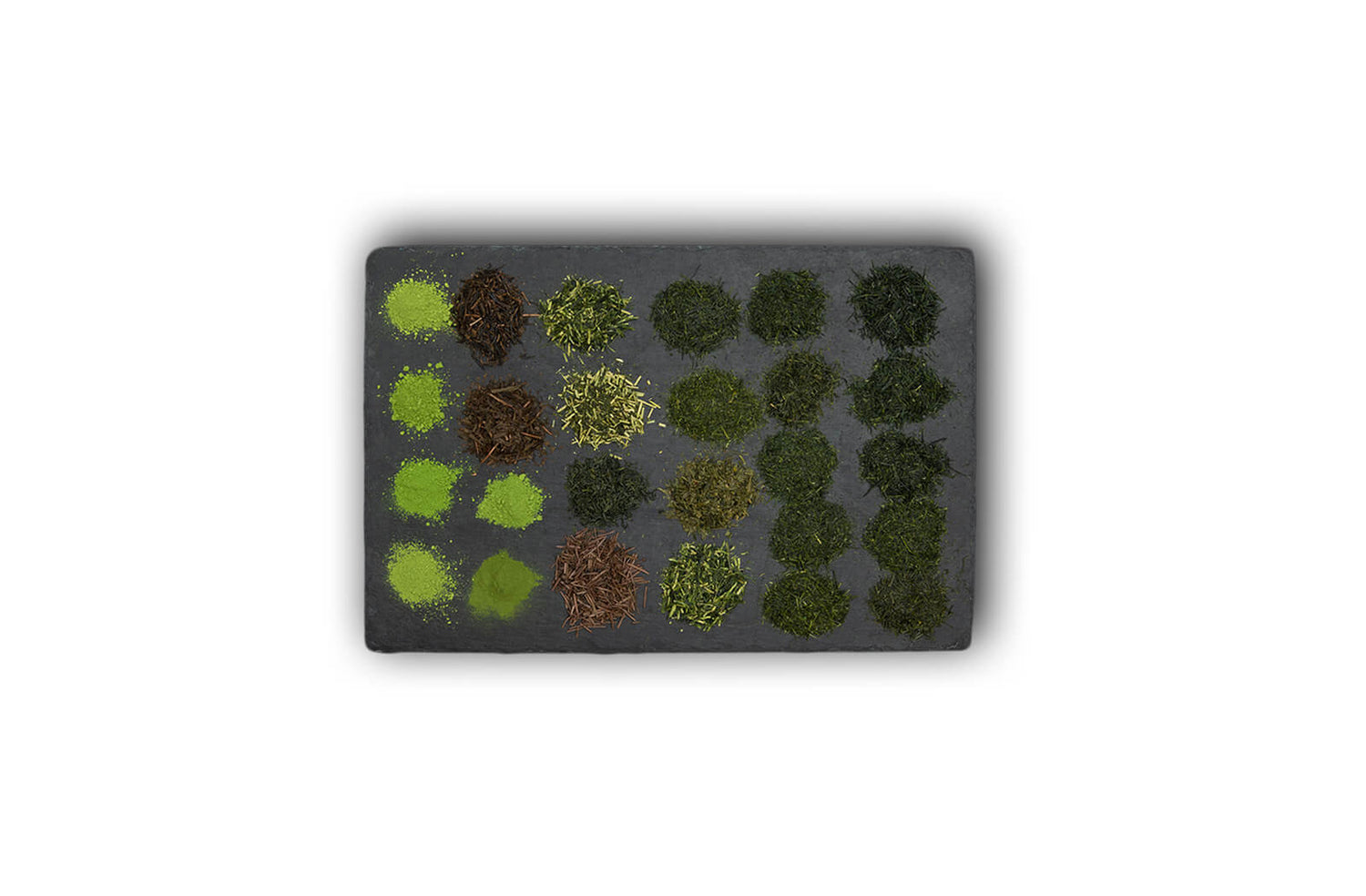 Experience our singular Japanese Tea Samplers
Ready to dive into the world of Japanese green tea? With these Japanese tea samplers, you can try different types of teas from small farmers all around Japan. Before you decide which tea is right for you. it might make sense to try a bunch out and see what you like most. These samplers include both matcha and loose leaf tea, and they are pre-measured into the perfect amount to enjoy a special tea moment. As you prepare a cup of tea or a bowl of matcha, you are transported to a new destination in Japan, to learn about how subtle differences in the production can lead to vastly different flavor in the final cup.
We source our Japanese Tea Samplers from reputable Japanese farmers
Our Japanese tea samplers come from small farmers all across Japan. We like to meet each of the farmers we work with in person to learn about how the teas are made and the exceptional level of care taken during  their production. The farmers we work with produce teas without the use of pesticides or chemicals
Choose between two types of Japanese Tea Samplers
Loose leaf green tea samplers

These  japanese tea samplers include different types of loose leaf green tea like sencha, hojicha, gyokuro, kukicha, bancha, kamairicha and genmaicha. All of these teas taste completely differently, but they are prepared in similar ways. Add one sample pack to the kyusu teapot, pour in some warm water and watch the tea explode into a symphony of flavors and aromas. Which one will be your cup of tea?

Shop Loose leaf Green Tea Samplers

Matcha samplers

These japanese tea samplers include different types of matcha or powdered tea. When the tea is powdered, it really concentrates the flavor profile, creating a rich, milky texture and a strong flavor. The matcha is also packed with health benefits, as you are consuming the entire leaf. The matcha contained in this  japanese green tea sampler come from different farms, different regions and different varietals or cultivars.

Shop our matcha samplers
What is included in our Japanese Green Tea Samplers?
In the japanese green tea sampler you will find different assortments of green tea, perfectly measured out for 1 tasting session. The loose leaf tea samples will contain 5 grams of tea, which can be prepared in a teapot and reused 3 times. The flavor will evolve with each infusion, so you should really get to know the tea. For the matcha, you will get 2 grams which is enough to make 1 bowl of matcha tea, or 2 small cups. 
Discover the teas that are included in our various samplers
Shop all teas
Gyokuro

A long shaded tea with a smooth sweetness and a powerful umami flavor.

Shop Gyokuro

Ceremonial Matcha

A very strong powdered green tea that is whisked up in a bowl and served with a thick foam on top.

Shop Ceremonial Matcha

Genmaicha

A tea made by combining green tea leaves with roasted rice

Shop Genmaicha

Stem Teas

These teas are made with a combination of tea leaves and stems, to create a milder flavor

Shop Stem Teas

Roasted Teas & Hojicha

Hojicha is made by roasting the dried tea leaves to impart warmer flavors and aromas.

Shop Roasted Teas

Sencha

The most common type of tea in Japan, made from leaves that have been steamed, rolled and dried.

Shop Sencha

Bancha

A tea made from the older leaves of the tea plant which are higher in minerals and lower in caffeine.

Shop Bancha

Kamairicha

A Japanese green tea made in the Chinese pan-roasting style, giving it a balance of warmer tasting notes.

Shop Kamairicha

Shincha

The first tea to be harvested in the spring of each year, made from the young sprouts of the tea plant.

Shop Shincha

 Kabuse Sencha

A long shaded tea that is one step down from gyokuro, with a lighter sweetness and less umami.

Shop Kabuse Sencha

Fukamushi Sencha

These sencha teas are steamed for a longer time, which creates a greener color and a stronger, steamed vegetable taste.

Karigane

A shaded stem tea that has a sweeter and more floral taste profile when compared to a regular kukicha.
Our Japanese Green Tea Samplers are 100% pesticide free
When we source tea for our Japanese tea samplers, we make sure to only work with farmers that produce tea without pesticides. When we visit the tea fields, we like to see all the steps farmers take to not only produce great tasting green tea, but also do so without harming the local ecosystem. These pesticide free tea fields are abuzz with activity, with different types of insects, birds and even mammals making themselves feel at home between the rows. 
How to brew the teas in the Green Tea Samplers
Loose leaf

All you need to do is add 5 grams of loose leaf tea to the teapot, pour in 150ml of water and let the leaves sit undisturbed for between 1-2 minutes. For specific temperatures and brewing times, you can refer to the brewing instructions on each of the product pages. When the brewing time is up, you can just pour the teapot out into a cup, and your tea is ready to drink! Later, you can infuse the leaves 2-3 more times or until they lose flavor.

Matcha

Simply put 1-2 grams of powder into a bowl and add in 100ml of warm water. You may want to run your matcha powder through a sifter, as this will remove the clumps that form in the powder as it reacts to the humidity. You can then take your matcha whisk and gently stir to make sure all the powder has been combined with the water. Then, you can begin to whisk the tea in quick, zigzag motions using your wrist. With the right technique, a bright green foam will be created at the surface of the tea, which will give it a smoother texture and a creamier taste.
How much tea can you make with our Japanese Tea Samplers?
Each sample pack included in the Japanese tea sampler has enough tea for one tea "session". One 5-gram sample pack of loose leaf tea contains enough to make 3-4 cups of premium Japanese green tea. One 2 gram sample pack of matcha powder contains enough to make 2 small cups of matcha, or one large bowl.
What teaware do I need to prepare tea from the tea samplers?
Brewing Loose leaf green tea

To prepare the loose leaf tea in the Japanese tea samplers you only need the kyusu teapot. This teapot is made from clay and it has a built-in filter to sift out the leaves as you pour. The main body of the teapot provides the tea leaves with plenty of space to open up and release their flavor into the water, and the clay itself can even accentuate the flavor of the tea. The kyusu teapots you will find here have a side handle, which stays cool to the touch and allows you to pour with just a simple turn of the wrist. If you'd like to learn more about the kyusu teapot, you can read the article here

Making Matcha

 To prepare the matcha in the Japanese tea samplers you will a few basic tools. First, the matcha bowl to prepare the tea, and the bamboo matcha whisk or "chasen" to whisk the matcha into water and create the beautiful foam on top. It is possible to use other tools if you don't have the whisk or the bowl. but these have really been designed to produce the best bowl of matcha tea. These tools have been used in the tea ceremony for hundreds of years, and they still work better than modern utensils. If you're interested in learning more about the matcha whisk, you can find the article here.
Need help? We've Got Your Covered…
Delivery

We currently offer free delivery options for everyone around the world. For certain orders, we also provide free express shipping, which usually arrives in just a couple of days. If your order is time sensitive, make sure you have one of the faster delivery options selected at checkout.
Teas and Teaware

Have questions about any of our products? You can either ask our customer service team, or refer to the hundreds of videos we have on YouTube, Instagram, Facebook and TikTok for more information.
Order issues

While things usually are sent out quickly and efficiently from our E.U and U.S distribution centers, there are some delays due to customs, holiday traffic and weather. We can provide you with tracking information when you order so you'll know where your tea is at all times!
Payments

We currently accept payment by major credit card, paypal, apple pay and bank transfer. If you have any questions about your preferred payment method, please be sure to reach out to us and we can figure something out to accommodate you!
Returns & Refunds

While returns are very rare at Nio, they occasionally do occur. We want everyone to be satisfied with the tea they get, so we would prefer to offer a replacement tea rather than leave someone with a tea they don't like. Please be sure to reach out to us and we can solve whatever issues you might have with the tea you ordered.
Japanese Green Tea Education Center
View all
Learn everything you need to know about Japanese black tea, what is Japanese black tea, the history of Japanese black tea and what it tastes like

Learn everything you need to know about Japanese black tea, what is Japanese black tea, the history of Japanese black tea and what it tastes like